Alain Merlingeas

Alain Merlingeas started drumming at the age of 27 by taking a few classes. Six months later he recorded his first album.

He perfected his craft at the "Drums School" in Limoges and then played regularly in an orchestra for over twelve years.

He has worked in a number of studios (Toulouse, Bordeaux, Dordogne....) and has acted as coordinator on a number of albums.

He played as a session musician on albums, EPs and singles... (Dominique L , Dimitri Nirman , Kevin Castagna , Nando Circus , Nemo , Arkane , Terminal Groove , Ohama , Lucia Stanizzo , Tootem , Moon Avenue, Paryzyane, Wendy Nazaré (Pas de Pareil), Eric Stewart (Viva la différence), Pascal Escoyez (Nature), etc....) He plays regularly with Paryzyane and is drummer for the Thierry Bacofin quintet.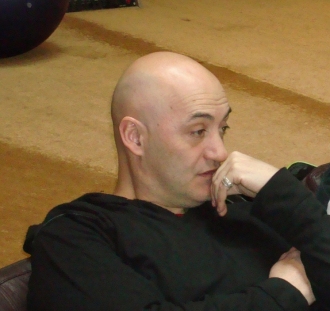 Comments


I met Alain at the same time as Laurent as he had worked on a few recordings in our studio before coming to work with me.

While Alain comes from a very different universe than the work he did on Nature, his ability to make his huge drum kit sound like a real musical instrument will always astonish me.

He is always listening and totally dedicated to the project, on this album he produced some incredible drum passages, with an amazing finesse and touch…