Jean Lhuierry

Jean Lhuillery was born in 1958 into a musical family (classical and traditional Breton). He began to play and study Celtic music in 1972 (Scottish bagpipes, Breton biniou, bombard, tin whistle; began learning Breton and collecting music and tunes).

In 1974 he took an interest in Irish music and bought his first Uilleann pipes from Leon Rowsome.

He studied the bagpipes in Scotland (solo with D.G.McLeod, band pipes with Pipe Major F.McCabe). Between 1975 and 1978 he played with a pipe-band in the Glasgow region and began teaching Breton music during the same period.

He did Celtic Studies at Brest University from 1977 to 1983: Breton, Welsh, Irish then worked as a monitor at the Centre de Recherche Bretonne et Celtique: he was in charge of sound archive restoration, tape transfers, indexing.

He is the author of "La Société Celtique d'Ecosse" in Scotland, published by the Institut Culturel de Bretagne.

At the same period, he began playing the Northumbrian pipes and opened a traditional music store in Brest. He taught the bombard at the Centre Breton d'Art Populaire and played in various groups and bands: Triskell, the " Penn ar Bed " and " Mouez ar Mor " choirs.

He also plays biniou-bombard together and practices "kan ha diskan" traditional singing, and also played bombard and organ together with the bagad de Plougastel.

In different groups, he played concerts and did tours in Ireland, England, Wales, France, Germany, Switzerland and Italy.

As language assistant in Galway University in 1980-81, he wrote his masters on traditional stories about mermaids.

He learned from and played with Mickey Finn, Martin O'Connor, Sean Ryan, Frankie Gavin, Pat Broderick and Jackie Small among others.

He taught English in France from 1983, then abroad (the Congo 90-96 then Australia 96-98 where he was Principal of the Lycée Français de Sydney).

In Australia, he was a member of the Auld Alliance, Guardian of the "Standing Stones" of Glen Inness and played regularly. It was at this time that he began to learn the Scottish Smallpipes.

He moved back to France in 1998, to the Périgord region.

He is a founding member of a number of groups: Doctor Gilbert, Froggy Land, Pereel Gore, Easter Lily. He plays with Didier Oliver in "Froggy Land", and as a duo with a repertoire of old Irish and Scottish music (CD on the way), as part of a trio with Emmanuel Pariselle (CD in 2002). He met Malcolm Wray and Ian Stevenson during their traditional singing course in Lussac and he became a member of the group Quilty created by Ian and Malcolm.

He also created the duo "Pat agus Sean" for Uilleann pipes and violin.

Jean plays the Uilleann pipes in D and B minor, the Scottish smallpipes, Border pipes, Highland pipes, Northumbrian smallpipes, tin whistles and low whistles but he also plays the biniou koz, the bombard, gaïta gallega, sanza, various flutes, and he also sings.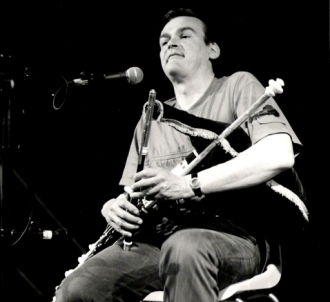 Comments


While writing "Smoke" in Ireland, the idea of using Uillean pipes for the main theme and finding a not-very-convincing sample was the easy part of the arrangement.

Then to find a real Uilleann pipes player was a lot more difficult until someone gave me Jean's number and it turned out he lived 20 km from me in France!!!

Jean is a fantastic musician, he also brought his bagpipes to the session and we decided to use them at the start of "Everything we can"….