Laurent Dezon

Laurent Dezon was born in the south west of France on June 11th 1966.
He played his first notes at the age of thirteen when someone lent him a bass guitar. He formed his first hard rock group a year later.
He took bass lessons in 1986 with JL BISIACCO, a bass teacher at CIAM (Bordeaux).
In order to pass on his knowledge and experience he also worked as a teacher in the Bergerac School of Rock in 2004.
A few years later, with the aim of perfecting his craft, he took an intensive course in the Bass at the CIAM with Jean Louis Bisiacco (September 2008 to June 2009).

He played with a number of groups up until the nineties when he joined RETRO MUSIC, a variety and musette orchestra he played with until 1999.
From 1992 to 1996 he played with the rock band ALEA JACTA EST that opened for INDOCHINE in 1994, for Les INNOCENTS in 1995 and toured QUEBEC in 1996. They also recorded a two-track CD. From the end of 1996 to 2000 he worked with the SALES FEES, a waltz fusion group (…) that recorded 3 CDs.

He has played with a number of orchestras (Christine DUBREUILH (2 CD); MAPENZI (2 CD)).
He also played with ARKANE, a progressive rock group that has recorded 3 CDs and more recently a 12 track album, then with PSYKOPOTE that opened for CAMELEONS and took part in the "Un autre monde" Festival.
He then worked with Kevin (Winner of the "Truffe d'argent" and artist of the year in 2007 at radio France) with whom he opened for Dany Brillant and then recorded a 5 track CD, followed by a 10 track album. He went on to do a number of concerts with Kevin.
With the group DOMINIQ-L he was regional finalist in the EMERGENZA competition and went on to record an EP and a 10 track album.

In 2006, he started up his own band LAURENT DEZON (ex MAPENZI) with which he played forty concerts annually.

He was a guest at the Chantiers des FRANCOFOLIES in SPA (Belgium) of the Belgian artist Wendy NAZARE.

In the studio he worked on numerous projects (Claire LEBERT; DELIDESSENCE; Bertrand CARDINET, Sébastien LANGE; Lucia STANIZZO; OMAHA; PARYZYANE). In 2007 and 2008 he laid down the first bass notes for Pascal ESCOYEZ's Nature project.

In 2010, he started the group Dr NO and in 2013 played ten dates on the Annabella show.

His precious work tools include a five-string "F", a carbon four-string VIGIER bass, a five-string FENDER Jazz Bass, a fretless five-string IBANEZ bass and he works with a Mark Bass amp, 2 SWR 700 w speakers and an auto-wah EBS.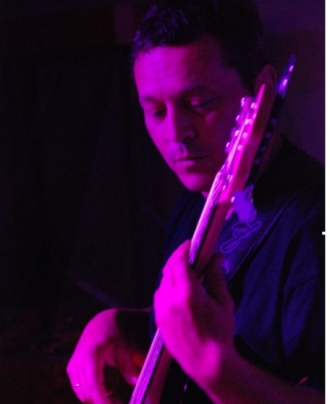 Comments


I first met Laurent at the start of the project. He has already worked on a few recordings in our studio with Alain Merlingeas on drums and as a duo that worked regularly together, they got involved in the project.

For each recording, we had a number of rehearsals to find the right tempo and agree on the bass lines.

Laurent was more than just a session musician as he brought some amazing ideas to the table and came up with some beautiful deep bass lines that he knows I love :-)